Contact us
Address: 27# Weiwu Road,
Hangzhou Bay Industrial
Park, Shangyu district,
Shaoxing, Zhejiang, China.
Zip code: 312369
Tel: 0575-82735688,82735679
(telephone exchange)
Fax:0575-82735677
URL:
http://www.strong-light.com
Stronglight Kingdery printing dye
Your current location:
Home
>> Products >> Stronglight Kingdery printing dye
Kingdery LP liquid reactive printing dye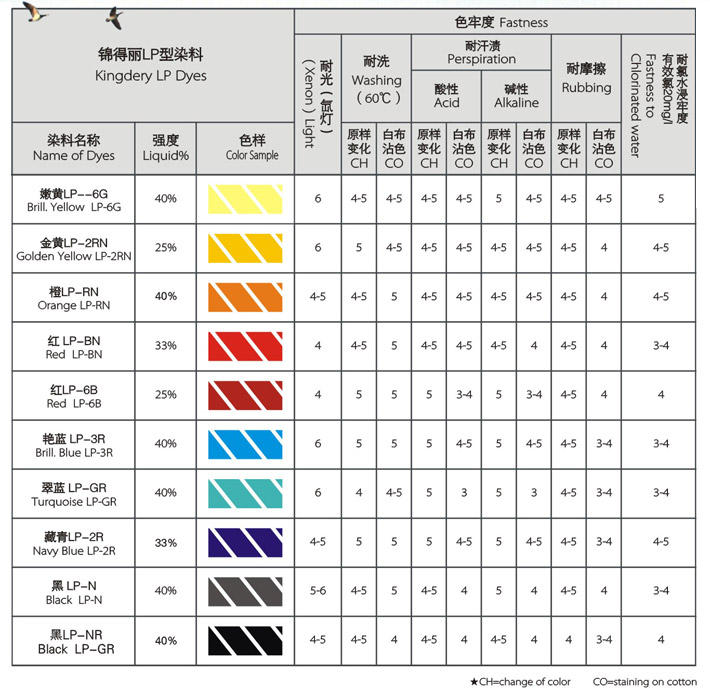 Advantages:
In order to comply with energy saving and quality affordable and market demand, the company successfully developed the LP series liquid reactive dye printing, this column is now traditional powdered dye printing dye compared with the following advantages:
1. After a modern high-tech means to deal with, low salt, so that the storage stability of colorants higher.
2. high purity products, fewer impurities, pure structure, quality is more stable, more beautiful shade.
3. Liquid reactive dyes in the production process, avoiding high temperature drying process, thus avoiding the adverse effects of high temperature on the dye, and saving energy, reducing pollution.
4. Products without dust oil, reducing the impact of dye additives on the dyeing process of textiles and pollution, so that the printing process is more stable, more excellent printing results.
5. Liquid dye in use, reduction of the dye dissolved in operation, reduce labor intensity, improve production efficiency, and to prevent the dye dissolved due to insufficient cause, such as printing and color point defects.
6. active printing dye liquid metering Dye companies make more convenient and precise, especially the use of automated systems and dyeing enterprises with pulp, he abandoned reduce labor intensity and improve the automation level.