Contact us
Address: 27# Weiwu Road,
Hangzhou Bay Industrial
Park, Shangyu district,
Shaoxing, Zhejiang, China.
Zip code: 312369
Tel: 0575-82735688,82735679
(telephone exchange)
Fax:0575-82735677
URL:
http://www.strong-light.com
Jinguangfix Dyeing dye
Your current location:
Home
>> Products >> Jinguangfix Dyeing dye
FGB series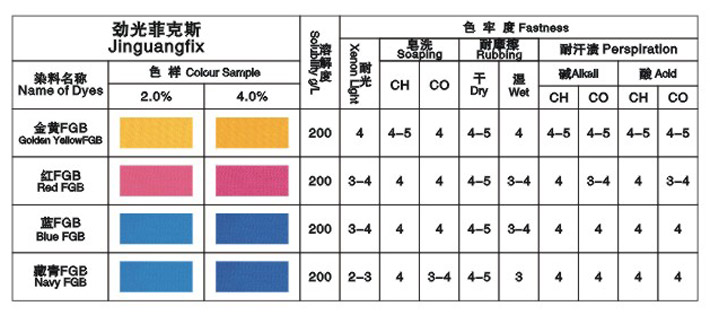 Ⅰ. Jinguangfix FGB is a newly developed high compatibility reactive dyes for dip, continuous dyeing, cold pad-batch dyeing and other techniques, can greatly improve the success rate of dyeing time.
Ⅱ. Apply to the dark stain, especially in the sensitive color application is very reliable and has excellent reproducibility.
Ⅲ. Excellent compatibility, insensitive to process conditions.
Ⅳ. Lifting force, and easy to clean.
Ⅴ. Hypervariable light stability.