Contact us
Address: 27# Weiwu Road,
Hangzhou Bay Industrial
Park, Shangyu district,
Shaoxing, Zhejiang, China.
Zip code: 312369
Tel: 0575-82735688,82735679
(telephone exchange)
Fax:0575-82735677
URL:
http://www.strong-light.com
Jinguangfix Dyeing dye
Your current location:
Home
>> Products >> Jinguangfix Dyeing dye
2R series
Ⅰ. Jinguangfix 2R is a newly developed high compatibility reactive dyes for dip, continuous dyeing, cold pad-batch dyeing and other techniques, can greatly improve the success rate of dyeing time.
Ⅱ. Applicable to colored dye, and in particular sensitive to the three primary colors dip (50 ° C/60 ° C) the application is very reliable and has excellent reproducibility.
Ⅲ. Lifting force, and easy to clean.
Ⅳ. Different hue faded (light fastness).
Ⅴ. Dyed light with good coverage performance and levelness, reduce the "horses and horses' color.
Compatibility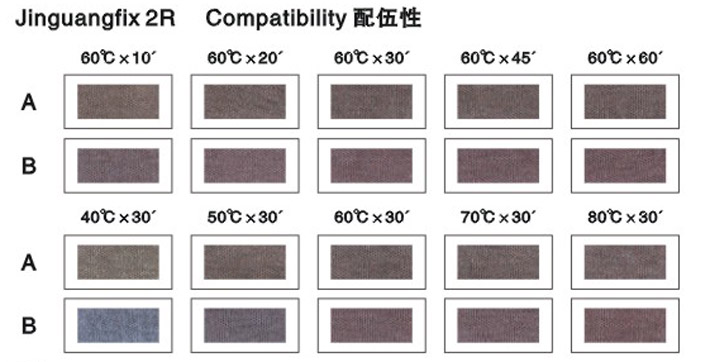 Recipe:
A red 2R 0.2% golden 2R 0.5% Blue 2R 0.3%
B Red 2R 0.35% Yellow 3RS 0.45% Black KN-B 0.20%