Contact us
Address: 27# Weiwu Road,
Hangzhou Bay Industrial
Park, Shangyu district,
Shaoxing, Zhejiang, China.
Zip code: 312369
Tel: 0575-82735688,82735679
(telephone exchange)
Fax:0575-82735677
URL:
http://www.strong-light.com
K4 ink
Your current location:
Home
>> Products >> K4 ink
K4 ink
Reactive dye-based ink for Kyocera nozzle
Suitable for cotton, linen, silk, wool, nylon and other fabrics.
Features of RT-K4 reactive dye-based inks:
1. Excellent installation performance.
2. Stable physical and chemical indicators, good stability, high adaptability to low and high temperature.
3. High concentration of ink, high strength of printing color lump.
4. Good printing fluency, continuous printing 100 meters without breaking.
5. Better adaptability to the environment.
6. Professional ICC color curve, good color reducibility, excellent drawing effect.
7. Strong compatibility, excellent adaptability to medium.
b jet RT-K4 diluent
1. Functions
This product functions as diluent to dilute ink to standard strength, to ensure printing effect.
2. Features
Digital printer nozzle is very small, but rapidly drying pattern is required, thus there is high requirement on ink diluent.
b jet RT-K4 detergent
1. Functions
Cleaning solution is put in ink box to clean the nozzle
Cleaning solution is put in vessel to clean print head
2. Features
Cleaning solution is totally compatible with original ink and natural ink.

Storage: keep in shading and sealed warehouse at 5-25℃. Shelf life is 6 months.

b jet RT-K4 color system
Cotton, rayon, silk, nylon and wool fabrics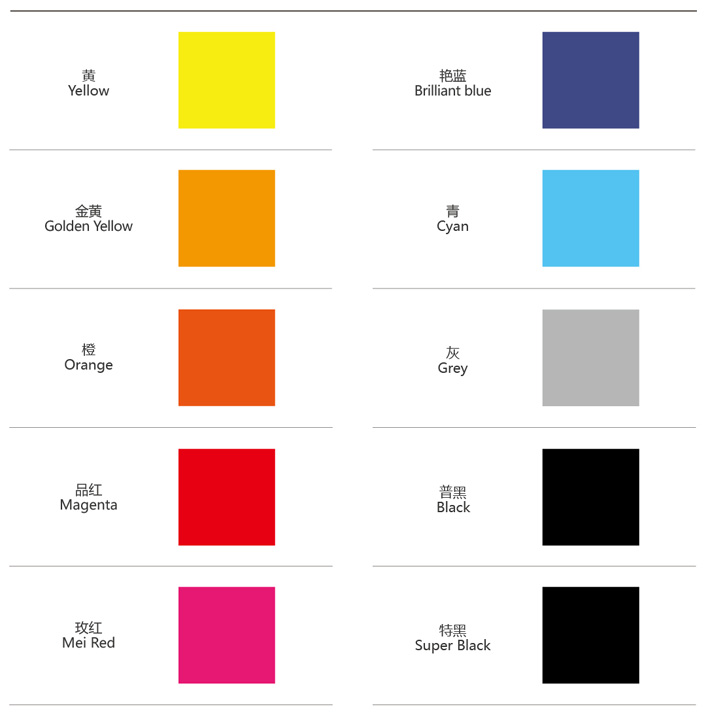 b jet RT-K4 performance:
Name
Light fastness
ISO105-B02100%
pattern
Soaping 50℃,B1S
ISO105-C06
Perspiration resistance (acid)
ISO105-E04
Perspiration resistance (alkali)
ISO105-E04
Color fastness to water
ISO105-E01
Color fastness to chlorinated water
ISO105-E03
CH
PA
CO
CH
PA
CO
CH
PA
CO
CH
PA
CO
CH
Yellow
5
5
4-5
4-5
4-5
4-5
4-5
4-5
4-5
4-5
4-5
4-5
4-5
5
Golden Yellow
3-4
5
4-5
5
4-5
4-5
4-5
4-5
4-5
4-5
4-5
4-5
4-5
5
Orange
3-4
4-5
4-5
4-5
4-5
4-5
4-5
4-5
4-5
4-5
4-5
4-5
4-5
4-5
Pinkish red
4
5
5
5
5
5
5
5
5
5
5
4-5
5
5
Rose red
4
4-5
4-5
4-5
4-5
4-5
4-5
4-5
4-5
4-5
4-5
4-5
4-5
4-5
Brilliant blue
5
5
5
5
5
5
5
5
5
5
5
4-5
5
4Y
Cyan
3
4-5
4-5
4-5
4-5
4-5
4-5
4-5
4-5
4-5
4-5
4-5
4-5
4-5
Grey
5-6
4-5
4-5
5
4-5
4-5
4-5
4
4
4
4-5
4-5
4-5
4
Black
5-6
4-5
4-5
4-5
4-5
4-5
4-5
4-5
4-5
4-5
5
4-5
4-5
4
Super black
6-7
4-5
4-5
4-5
4-5
4-5
4-5
4-5
4-5
4-5
4-5
4-5
4-5
4-5